I AM MY OWN WIFE
Written by Doug Wright
Directed by David Carta
Starring Ben Katagiri
February 19th, 20th, 26th, 27th, March 4th & 5th @ Albany Barn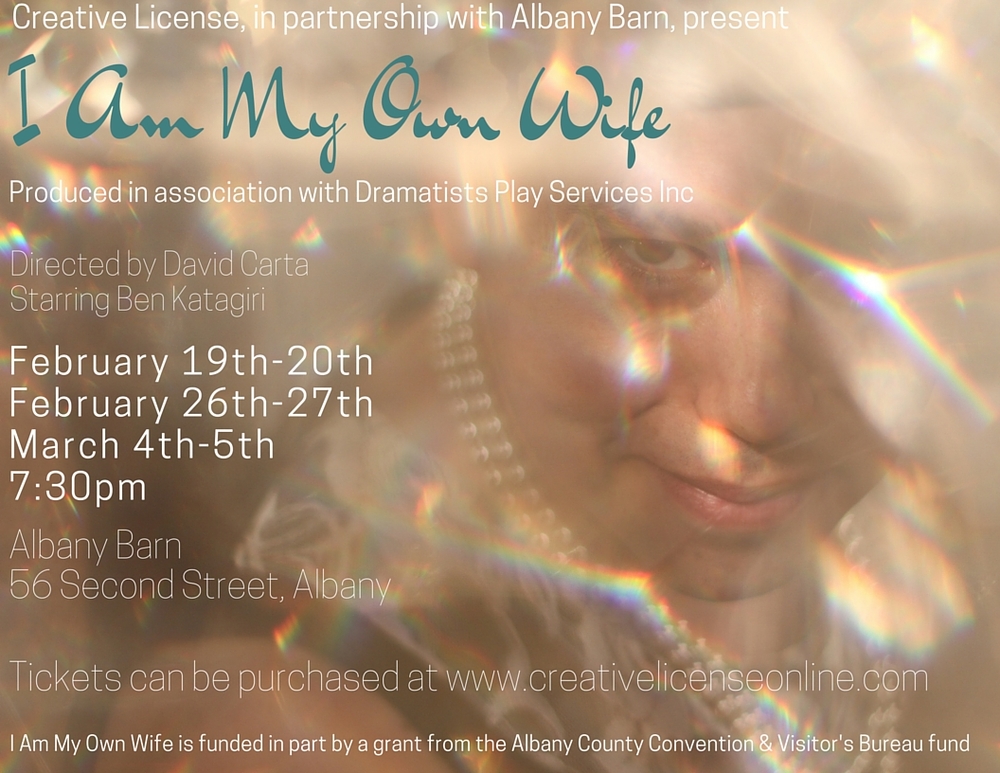 Thoughts on I Am My Own Wife…
When actor Ben Katagiri approached us with an idea to stage I Am My Own Wife, we were so impressed by his vision, passion, and dedication. It is technically the largest show we've done so far, and the larger-than-life persona of Charlotte Von Mahlsdorf makes us take a good, hard look at how we see ourselves versus how we are perceived by others.
AUDIENCE FEEDBACK ON I AM MY OWN WIFE
"Ben Katagiri is an extraordinary actor - words are not adequate to describe his talent. What a magnificent production."
"Stunning production from beginning to end. Really a once in a lifetime experience to see theater performed so exquisitely."
"This is what theater should look like!"
"Wonderful! Strong performance and great production all around!"
"What an impressive performance! Ben is fantastic -he navigates this incredibly difficult piece with professionalism and grace. Bravo!"
"I had tears in my eyes by the end. You could feel Ben's passion and dedication throughout the whole performance. Amazing show."
Written by Doug Wright, "I Am My Own Wife" explores the astonishing true story of Charlotte von Mahlsdorf. A transvestite and celebrated antiques dealer who successfully navigated the two most oppressive regimes of the past century-the Nazis and the Communists--while openly gay and defiantly in drag, von Mahlsdorf was both hailed as a cultural hero and accused of colluding with the Stasi.
LONELY, I'M NOT
Written by Paul Weitz
Directed by Aaron Holbritter
Starring Ian LaChance, Brigitta Giulianelli, Angela Potrikus, Rich Angher, Rhiannon Antico, & Sammy Lawkins
May 20th, 21st, June 3rd, 4th, 10th, & 11th @ Albany Barn

THOUGHTS ON LONELY, I'M NOT
We were immediately drawn to this script because it had so many elements of a classic romantic comedy, but was peppered with some very real, sometimes dark themes-depression, feelings of inadequacy-that really made it stand out as a unique piece. It also had a very cinematic feel to it, which spoke to our inner movie nerds.
CRITICAL FEEDBACK ON LONELY, I'M NOT
"An accomplished regional premiere"
"Director Aaron Holbritter — who also designed the excellent sound and projections — effectively pairs [Ian] LaChance with Brigitta Giulianelli, [...] who's every bit a foil and complement to the talented LaChance."
"[...] this production offers a rich, nuanced portrait of specific, wholly realized people in a particular time and place."
"This damaged-boy-meets-defensive-girl story has the sweet suspense, elliptical construction and off-kilter charm of an ideal Hollywood rom...-com" (NY Times). At an age when most people are discovering what they want to do with their lives, Porter has been married and divorced, earned seven figures as a corporate "ninja," and had a nervous breakdown. It's been four years since he's had a job or a date, and he's decided to give life another shot. LONELY, I'M NOT is a comic journey that follows Porter as he meets an ambitious, sightless young businesswoman who is overcoming her own obstacles to emotional success.