MAPLE & VINE
Written by JORDAN HARRISON
Directed by Casey Polomaine
Starring Meigg Jupin, Ben Katagiri, Evan Jones, Brigitta Giulianelli, & Christian Leahy
March 1st, 2nd, 7th, 8th, & 9th @ Albany Barn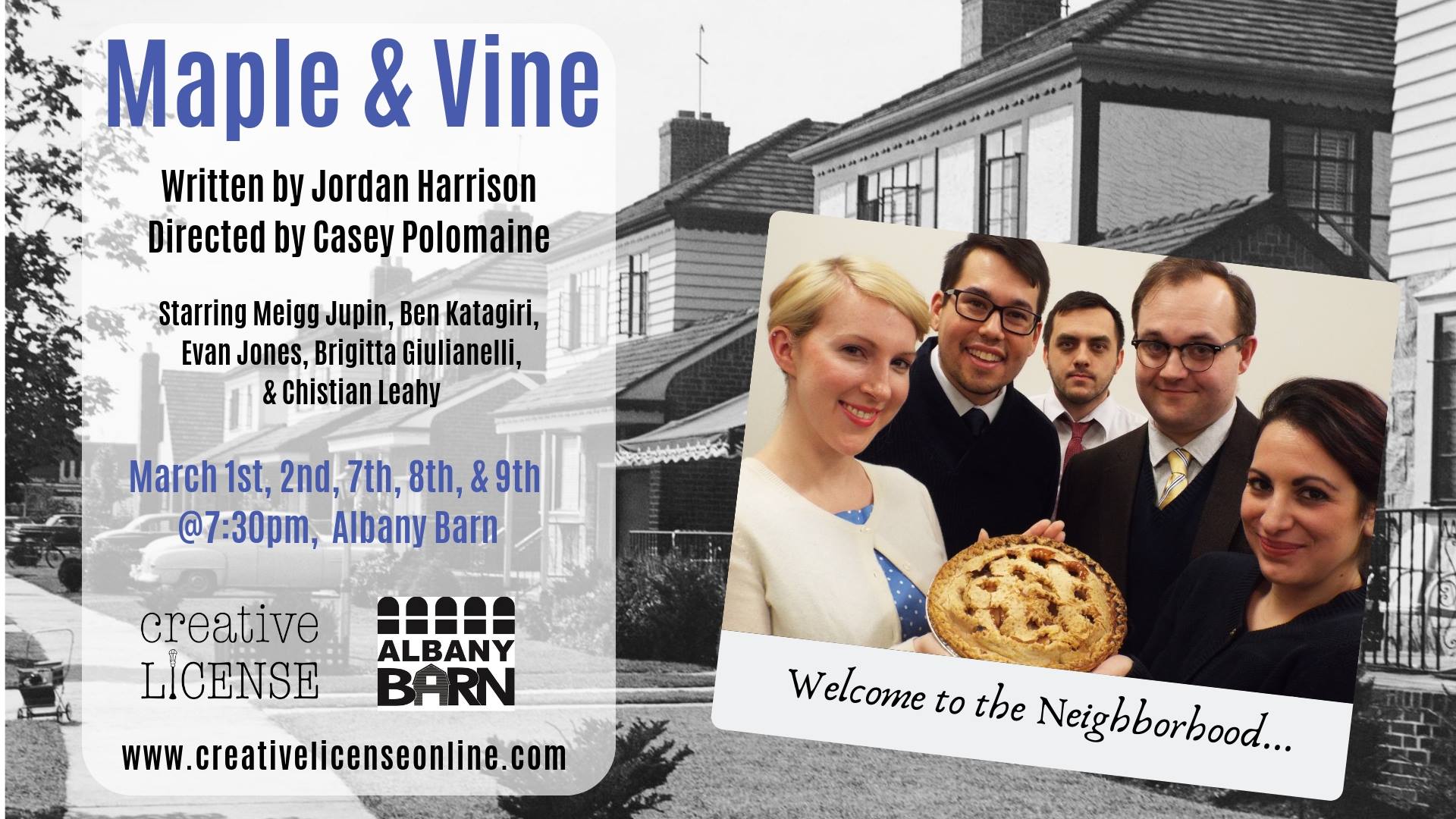 We stumbled upon this play years ago and absolutely loved it for it's fun throwback to the 1950's and it's dark and unsettling twists and turns. We tucked the script into the back of our heads, vowing to return to it when we felt confident in our ability to handle the heavy lift it required with costumes, set pieces, etc. As we entered 2019, with almost 5 years of shows under our belts, we felt it was time to take it on (and boy are we glad we did).
Click here for a write-up of Maple & Vine featured in the Preview section of The Times Union.
AUDIENCE FEEDBACK ON MAPLE & VINE
"[Director"] Casey Polomaine and the whole team do a supurb job with this deeply disturbing, satirical look at those who would pursue nostalgia as a life choice. Fantastic job on this provocative Capital Region premiere!"
"A brilliant little gem made that much brighter by the talent of those involved"
"The cast was amazing! I was engaged & intrigued!"
Katha and Ryu have become allergic to their 21st-century lives. After they meet a charismatic man from a community of 1950s re-enactors, they forsake cell phones and sushi for cigarettes and Tupperware parties. In this compulsively authentic world, Katha and Ryu are surprised by what their new neighbors - and they themselves - are willing to sacrifice for happiness.